Are you looking for the best free WordPress slider plugin? Do you want to create the most engaging sliders in WordPress? Do you want to create it without a single line of code in a few minutes? If you are, you are indeed in the right place.
This blog will discuss the five best WordPress slider plugins and their key features. So, please keep reading to find out which one is the best fit for your WordPress slider and carousel. Let's get started.
Table of contents
What is a slider?
A slider refers to a showcase of multiple images or other content that appear one after another automatically and manually within a single space. It's an attention-grabbing way to display your key items.
We often use sliders and carousels interchangeably. However, there is a little difference between a slider and a carousel. A slider displays a single image or content simultaneously, while a carousel displays multiple ones simultaneously.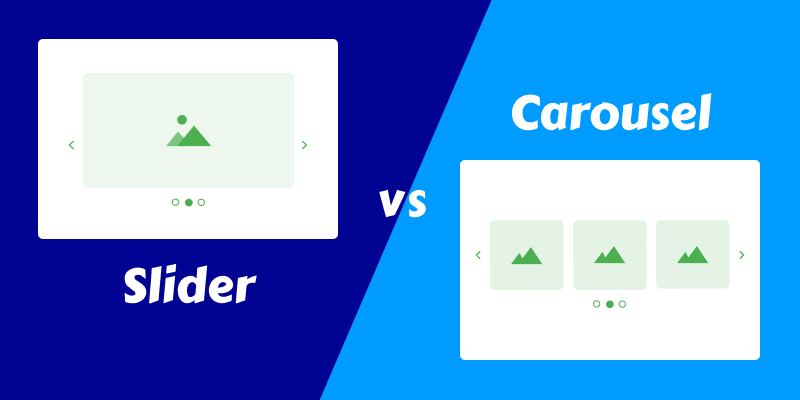 Significant benefits of a WordPress slider
WordPress slider is a trendy presentation style for your multiple particular images and content. Additionally, It has many beneficial aspects. Above all, it's an attention-grabbing way to display your key items and increase your conversion rate.
In addition, enabling the autopay for your slider is time and effort-saving. However, please be careful about the speed of the autoplay. Never make it too fast.
Moreover, it saves your space. You can display multiple items within a place of a single item. Furthermore, it adds importance to the items and highlights them.
Most importantly, it increases interactivity with stunning effects and a pause on the hover option. As a result, it makes your website more appealing and engaging. Finally, you discover a new dimension to your business experience.
5 Best Free WordPress Slider Plugins
After coming across some practical and beneficial aspects of a slider, you might wonder how to create a beautiful WordPress slider. Without further delay, I'll tell you about the five best free WordPress slider plugins. You can choose any of them for your sliders. However, these are the freemium plugins. Besides the free versions, they have premium versions with advanced features. Nevertheless, the descriptions include both the free and premium features of these plugins.
1. WP Carousel

WP Carousel is one of the best free WordPress slider plugins. It's a multipurpose slider and gallery plugin. So, you can get almost all in one plugin and keep your WordPress free from the burden of so many plugins. In addition, it has a wide range of features. As a result, you can design your sliders and gallery exactly how you and your visitors expect.
You can create more
Most importantly, it's a multipurpose WordPress slider and gallery plugin. So, you can create more:
Image and photo slider
Post slider
Product slider
Content slider
Video slider
Mix-content slider
External slider
Apart from sliders, you can create galleries with all above in the following layouts:
Grid
Tiles
Masonry
Justified
Key features
Beginner-friendly – The easy functionalities and thoughtful user interfaces of the WP Carousel made it beginner friendly. As a result, a new user can also start easily creating beautiful sliders.
Responsive and mobile-ready – The showcases you create with WP Carousel are fully responsive and mobile-friendly. Moreover, when you create a carousel, it allows you to set different numbers of items displayed at a time based on different screen sizes.
Lightweight and super fast – It's quite lightweight and performs super fast.
SEO optimized – The showcases you create with the WP Carousel are highly SEO optimized. As a result, your slider and showcases significantly help your website and landing pages perform better in search engine result pages.
Retina ready – WP Carousel offers you to enable Retina. You can display the high-resolution items of your sliders and galleries on devices with high-definition (HD) displays.
Powerful lightbox – With plenty of features, WP Carousel's powerful lightbox lets you make your sliders and galleries presentation more attractive and engaging.
Intuitive design – The decent user experiences and beautiful user interfaces made WP carousel intuitive. So you can start to create your sliders effortlessly.
Feature-rich – WP Carousel offers a wide range of features. They help you design your sliders and galleries just how they should be.
Compatible with all popular page builders and themes –Including Gutenberg and eliminator, WP Carousel is compatible with all the popular page builders and themes.
Create once and use unlimited times – Once you create a slider with the WP carousel, you can use it as many times and places as you want.
2. Slider – Ultimate Responsive Image Slider

Slider is one of the best free WordPress slider plugins. It is an image and photo slider plugin for WordPress blog users. You can add unlimited image slides in a single slider using multiple image uploaders. You can publish a full slider on your blogs.
Key features
Multiple Image Uploader –It allows you to upload multiple images.
Add Unlimited Images Into a Single Slider – You can add unlimited images to a single slider for better visibility by taking a small place.
Show Multiple Sliders Into a Single Page and Post – You can show as many sliders as you like on a single page or post.
Clean Dashboard – Neat and clean admin panel to configure your responsive image slider plugin.
Responsive Slider Plugin – It is adjustable with any screen size or device resolution.
Enable/Disable Slider Title – Show or hide your image slider's title as needed.
Enable/Disable Slider Description – You can decide whether to show or hide description text on your slider.
Enable/Disable Navigation Bullet – You can show or hide Navigation bullets on your photo album gallery.
Customize Slider Distance (New) – You can set the appropriate distance between two image slides.
Slider Order – Ascending, Descending, and Random (New)
3. Product Slider for WooCommerce

Nothing works better than this plugin if you want to create an awesome slider with your WooCommerce products. However, this is a dedicated plugin for WooCommerce products. So, you can create sliders with WooCommerce products only.
Key features
Responsive and mobile-friendly
Lightweight but powerful
Pre-designed Ready Themes
AutoPlay on/off
Control AutoPlay speed
Pause on hover
Infinite loop
Add as many products as you want
Multiple product sliders (supports more than one slider per page)
Show/hide Product name
Customize Product name font size, color, and hover color
Show/hide Product price
Set Product price & discount color
Show/hide Product rating
Show/hide Product add to cart button
Set add to cart button color, border, background & hover color
Show/hide Navigation arrows & Pagination dots
Control slider pagination speed
Show/hide a title for the slider
Set slider title font size, & color
Unlimited color (with color pickers) and Styling options
Control the number of product columns in different devices
Drag & Drop to reorder
Touch swipe supported (on/off)
Mouse Draggable on/off
Easy to customize and stylize
Super easy and intuitive admin UI to stylize in your way.
Unique settings for every slider.
RTL Supported.
Translation Ready.
Compatible with any theme and WooCommerce plugins.
SEO-friendly & optimized for speed.
Support all modern browsers: Firefox, Chrome, IE, Safari, etc. And much more options.
4. Carousel Slider
Carousel Slider is one of the best free WordPress slider plugins. You can create several types of sliders in WordPress using this plugin. In addition, you can add as many images as you want to your WordPress slider.

Key features
Supports major website/page builders
Multiple types of carousel
Hero slider with background image
Posts carousel
Video Carousel
Options to hide/show product Title
Fully responsive
Lightweight
Navigation and pagination
5. Wonder Slider Lite

Wonder Slider is another free WordPress slider plugin. You can create an image slider, video slider, and WordPress posts slider with it. In addition, the plugin supports images, YouTube, Vimeo, mp4/WebM videos, and WordPress posts. Moreover, it's fully responsive, mobile-friendly. It's also compatible with iPhone, iPad, and Android. Furthermore, it also includes a built-in Lightbox gallery.
Key features
Supports images, Mp4/WebM videos, YouTube, Vimeo, and WordPress posts
Fully responsive and mobile friendly, compatible with iPhone, iPad, and Android
Full-width slider
Stunning 3D transition effects
Built-in Lightbox gallery
Multiple sliders on one web page
Step-by-step wizard-style user interface
Display slider in WordPress widget
Take away
All these free WordPress slider plugins are perfect for creating your sliders. Generally, you can choose any of them. However, if you have to make various types of sliders, WP Carousel can help you better. On the other hand, if you want to create only WooCommerce product sliders, nothing works better than the Product Slider for WooCommerce.
Thanks for reading. We love to hear your words and queries. Please feel free to leave your comments below. We'll be happy to read and reply.