Did you know? A stellar-looking, beautiful menu option can attract your website audience. However, creating a well-designed menu could be a hectic job to do. But WordPress mega menu plugins can cut your hassle out of the to-do list. Isn't that great? Now creating a cool-designed menu or option will be like a "piece of cake."
So, ever wondered why a beautiful and well-managed menu is necessary for your website? How can it help you bring more visitors to your site? Let's find out.
Why is WordPress Mega Menu Plugins Necessary?
In this article, you will get to learn about some best WordPress mega menu plugins. Plugins that will allow you to add stunning menu options to your WordPress website with less effort possible.
Most importantly, your website visitors would likely go through all the pages or products, and they will surely take help from the menu in the process. Therefore, having a clean and easy-to-navigate menu on your website is a "must."
So, no more delays and waste of words. Let's jump into the actual topic.
8 Best WordPress Mega Menu Plugins
WP Mega Menu
Are you willing to create a beautiful-looking mega menu on your WordPress website? The WP mega menu is the best solution you need. It comes with rich and unique features that will add varieties to mega menu creation. Let see some of the fantastic features this plugin has.

Key Features
Drag and drop menu builder.
Widgets in the menu.
Multiple theme options.
Social icons.
Unlimited colors.
Fully responsive.
And much more.
Max Mega Menu
It's a highly advanced mega menu plugin that will automatically turn your regular website menu into a stunning mega menu. You can reshape and manage your mega menu with this plugin. You can also add WordPress widgets to the mega menu. There are tons of other features with the plugin. Let's check.

Key Features
Multiple menu options.
Add WP widgets to the menu.
Detailed documentation.
Fully responsive.
And many more.
QuadMenu – WordPress Mega Menu
A mind-blowing plugin that allows you to customize menu layouts with drag and drop options. It helps you integrate the menu to any WordPress theme quite perfectly. It has sets of unique features and functionalities. Let's take a look.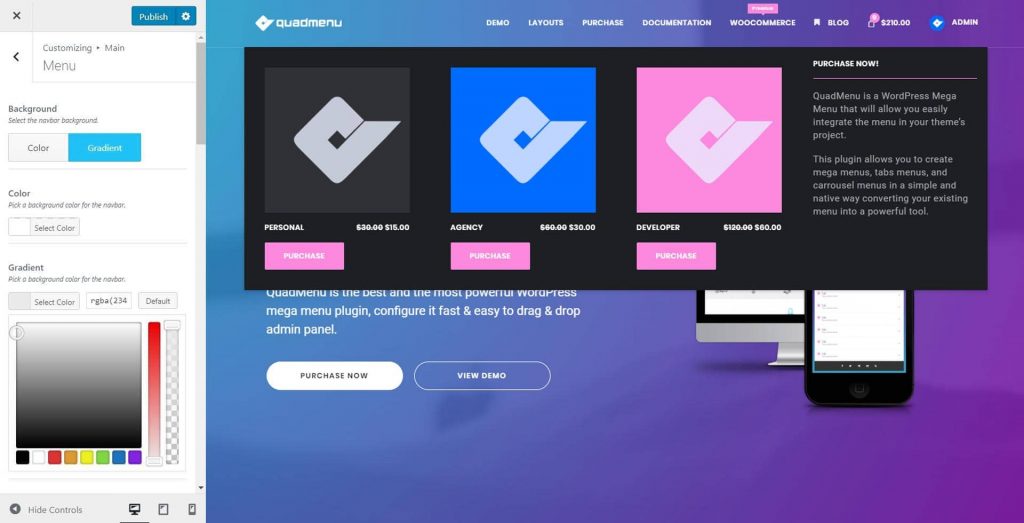 Key Features
Multiple layouts.
Mobile device-friendly.
Fully responsive.
Drag and drop option.
Highly customizable.
User friendly.
And many more.
AP Mega Menu
If you are looking for a WP mega menu plugin alternative, then this is for you. It comes with some superhit features such as drag and drop options, multiple layouts, and more. Let's check some of the features.

Key Features
Fully responsive.
Touch-friendly.
Retina ready.
Detailed documentation.
Translation-ready.
Menu icons.
Multiple layouts.
And many more.
Cool Mega Menu
Cool mega menu is a responsive plugin that fits in your WordPress website pretty much perfectly. Just like the name itself, this plugin comes with some of the coolest features. Let's see.

Key Feature
Fully responsive.
Easy-o-use.
Fully customizable.
And much more.
WP Mega Menu PRO
A premium plugin full of advanced pro features allows you to add a beautiful mega menu for any WordPress site. It's fully responsive and a very user-friendly plugin that lets you manage your website menu building flexibly. Let's see some of the features.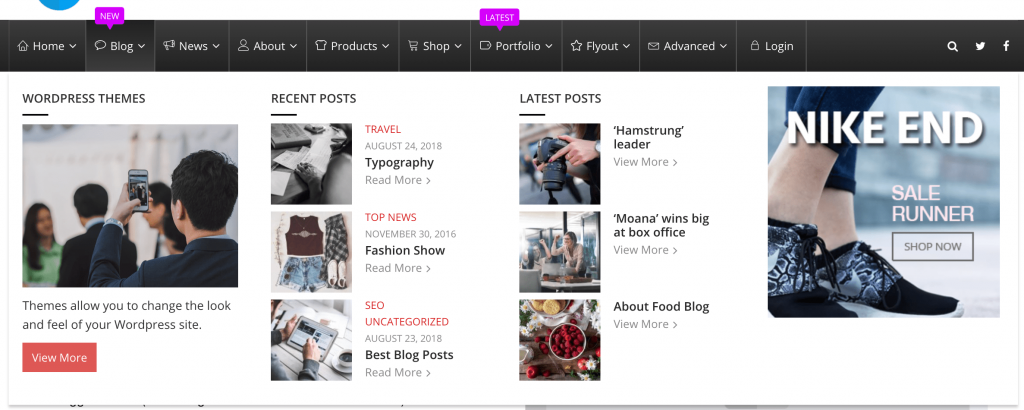 Key Features
Transition effects.
In-built menu icons.
Beautiful colored skins.
Custom CSS.
Custom JS.
Fully responsive.
And much more.
Groovy Mega Menu
Groovy is a fully responsive and highly customizable plugin that allows you to add any kind of menu design to your WordPress website. It has features that might impress you for real. It consists of a pre-made preset header library, widgets, shortcodes into mega menu blocks.
Let's see some of its other features.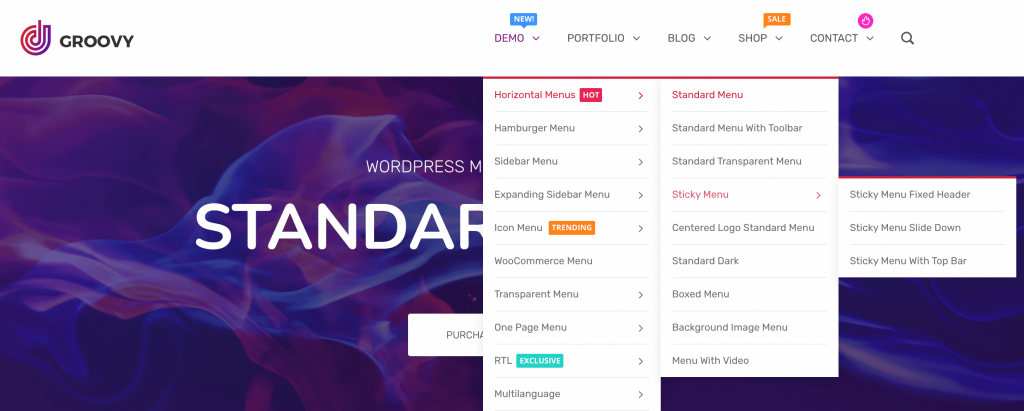 Key Features
Custom menu badges.
2000 icons.
200+ options.
Fast and responsive.
RTL ready.
WPML ready.
And much more.
Mega Main Menu
If you are looking for a highly advanced and responsive menu plugin for your site, then this is the one you need. Why this? Well, it has all the features you desire. It has a custom color scheme, multiple content dropdowns, highly responsive design, and so on.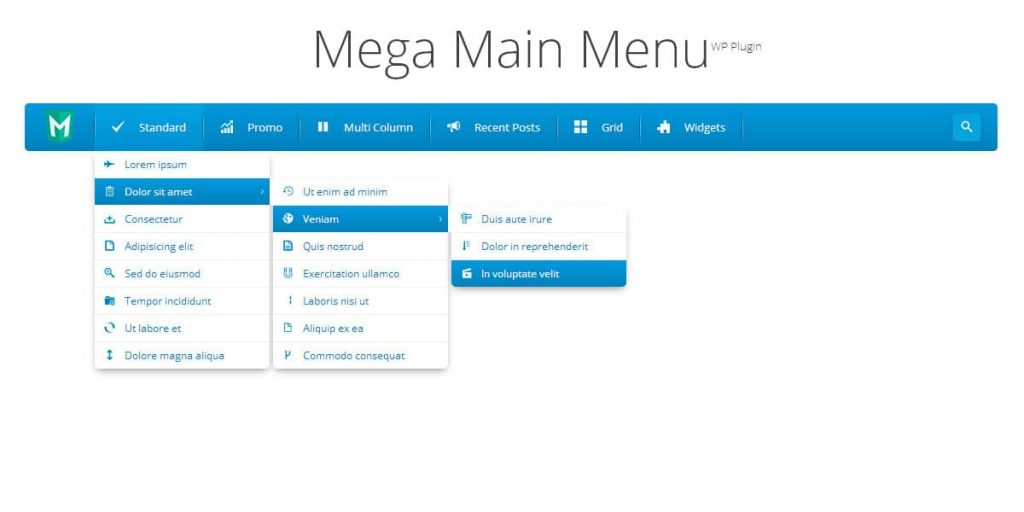 Let's take a look at some of its cool features.
Key Features
Unlimited color variations.
Multiple dropdown combinations.
Fully responsive.
Vector icons.
And much more.
Conclusion
Finally, this is the end of this article. Hopefully, now you have an excellent idea of choosing the right WordPress mega menu plugins for the website. You can share your thoughts and experience if you have used any of these plugins already. Thank you for your patience.