WooCommerce is a familiar open-source plugin in the world of eCommerce or online business. If you ever think of starting your WordPress-based eCommerce store online, you must need WooCommerce. After all these, you can spice up your eCommerce store by adding WooCommerce product gallery slider plugins to your site.
Product gallery slider plugins are one of the extension plugins that fit in WoCommerce. It allows you to display product images in the most awesome way possible. That's how you grab the attention of your audience.
It is known that 50% content of an eCommerce website is images. So, as an owner of an eCommerce business, you should consider the image quality and how you show the images on site. 
How WooCommerce Product Gallery Slider Plugins Work?
WooCommerce product gallery slider plugins help you create a beautiful product showcase slider that will attract more audiences to your online store. Remember that a successful eCommerce store doesn't mean a site full of functionalities and product variations.
How you show your product can make a huge difference. Because people always go after clean and beautiful place rather than a crowded one. That's where product sliders come to play a crucial role.
This article will thoroughly discuss a list full of amazing and free-to-use product slider plugins. So, here you go!
5 Free WooCommerce Product Gallery Slider Plugins
Gallery Slider for WooCommerce
The awesome ShapedPlugin developer team brings you the best gallery slider for the WooCommerce store. Now you can display a beautiful product gallery slider on a single product page. If you want a well-organized view of your product showcase, then this is the plugin you need.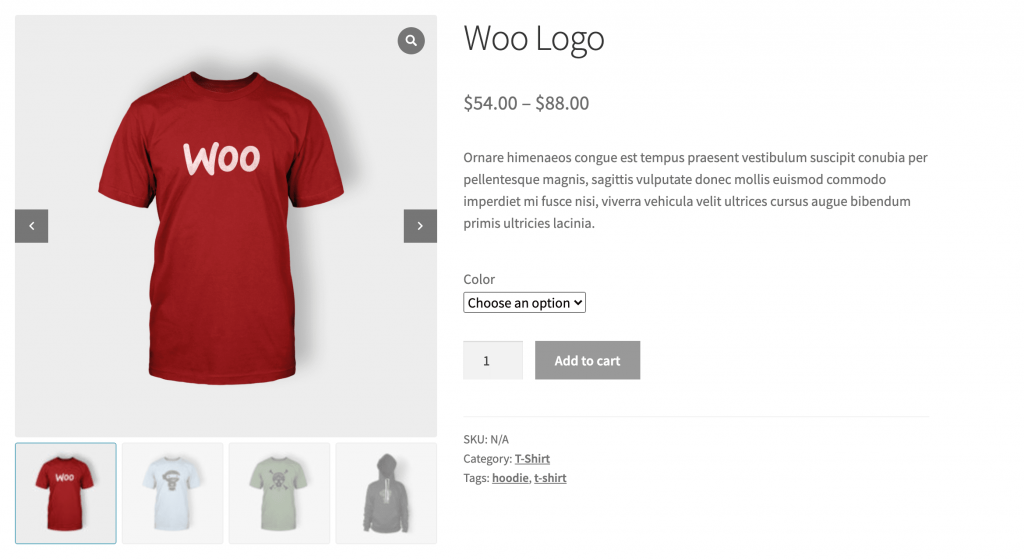 So, transform your WooCommerce store into an eye-catchy gallery and boost your sales now. This plugin has a premium version that allows you to enjoy more features with a greater range of functionalities. Let's check the features.
Key Features
Responsive and fast.
Display two extra images per product variation.
Thumbnails space, border, size options.
Gallery width for large devices in %.
Infinite loop for the gallery thumbnails.
Slider navigation options icons size and colors.
Slider pagination bullet or thumbnails, size & colors.
Product image zoom option for desktop or mobile.
Lightbox icon, background, and hover color, caption, social share buttons, lightbox image full-scree button.
Touch and swipe supported.
And much more.
Pro Features
3 Beautiful gallery layouts.
4 Gallery thumbnails display positions (left, right, top, bottom).
Unlimited variation images per product variation.
Display YouTube, Vimeo, Hosted video per product variation.
Set custom product image size option.
And many more premium features.
Product Gallery Slider
It's normal to have multiple images of a single product. In that case, what do you need? That's right! Product gallery slider is the perfect plugin you need. It allows you to add an image carousel to the default WooCommerce gallery.

This plugin will surely boost your online sales and will grab the attention of the audience. Let's see what features it brings.
Key Features
Responsive Layout
Navigation support
Slider AutoPlay Options
Gallery Layout [Horizontal Slider]
Thumbnails To Show
RTL support
And much more. So, get yours now!
Dynamic Product Gallery
Quality and a beautiful showcase of product images can bring more customers to your online store. Dynamic product gallery is a plugin that allows you to display various product images in beautiful sliders. It's time to bring your store's static product images to life.

It has some fantastic features inside. Let's check some of those features right now.
Key Features
Image gallery for WooCommerce product.
Highly responsive.
Elementor compatible.
Fast and user-friendly.
And much more. You can get it right now.
WooCommerce Video Gallery
Enough with images. How about adding some impressive product video clips to your store gallery? Yes, this plugin allows you to embed video to your gallery along with the product pictures. It comes with a ton of unique features that will make you happy. So, let see what features you can enjoy if you get this plugin for you.

Key Features
Embed YouTube video to the gallery.
RTL support.
Responsiveness.
And much more.
Variation Images Gallery
WooCommerce allows you to add a single image. However, this plugin will let you upload multiple images to add beautiful variations to your online store. You can include variations of a single product image. Isn't that amazing?

This plugin comes in a free and a pro version altogether. But the free version is still full of unique and limitless features. Let's take a brief look at its amazing features.
Key features
Unlimited additional images for each product.
Drag and drop option.
Zoom image option.
Fast and responsive.
And much more. So, get it now.
Conclusion
Now you know a lot about WooCommerce product gallery slider plugins. Hopefully, this article has been very helpful. Thank you for the thorough read. So, choose your desired plugin and share your experience with us.